Choose Plaintext is the writing of Casey Houser.
Newsletters and business copy that arrives on schedule and without errors.
Download (PDF) my resume at this link.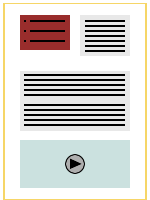 Professional newsletters for businesses large and small.
Single- or multi-column layouts
Add links to social media and video
Boost your conversions with weekly, monthly features
All the copy your business needs to succeed.
Blog posts, news features, press releases, social media
Everything tailored to your voice
Never let your blog fall behind again